Looking at the world as a whole, income inequality does not seem to be rising and is perhaps even falling a little. Exact details depend on how you measure things but the basic story is that some middle-income or poor countries with large populations – Brazil, India and China, but also the likes of Turkey, Indonesia and Nigeria – have been growing faster than rich countries. This offsets the effect of increasing inequality within countries. So it's possible for inequality to be increasing in every country in the world and yet global inequality to be falling.
Economics is fascinating yet baffling.
Source: timharford.com
Post with 3 notes
We 

have

 reached a deal to produce a comedy web series for CW Seed, which both is and isn't a spin-off of 

Veronica Mars

. It's more of a spin-off 

about

 a spin-off.




The basic idea is that Ryan Hansen will play a version of himself, as he tries to put together a Dick Casablancas-centric television spin-off, calling on his pals from 

Veronica Mars

, 

Party Down

 and beyond to help him get the show off the ground.
Rob Thomas just makes me happier and happier all the time. As if I wasn't excited enough for the VM movie.
Photo reblogged from Mostly signs (some portents) with 209 notes
via an MIT mailing list. No photoshop, no filters. Dinosaur being delivered to science museum, 1984.
Source: slavin
"…boy is that going to bother me. When I'm rushed to speak, I will later think about how I could have answered better, or a point I forgot to make, or could have made better, for a long time."
This. This this this.
Source: faitherina.com
"A report looking at the case for building the railway concluded London's traffic speeds would never surpass 6mph (9.5kmph)"
Seems legit
Source: BBC
Photo reblogged from Mostly signs (some portents) with 25 notes
Skydiving into Burning Man by ifindkarma on Flickr.
I had a basketball game Sunday night so I didn't get to see it live. Thank god for sky+ eh?
So here are my thoughts on the first episode (scroll down for TLDR):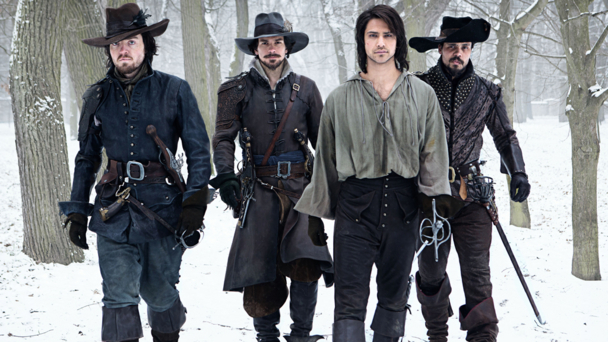 I like the characters of the three musketeers. The brooding, alcoholic Athos, Porthos the gambler and joker, and although I see Aramis as a poet and romantic rather than a womaniser, I was pleased and they were all well acted. I also really liked the cardinal and milady.
I liked the setting and production too. I'm not generally a huge fan of costume dramas, partly because I think too much focus is pulled by flashy costumes, but the wardrobe and props are great. I confess I do have a thing for old weaponry; swords and especially flintlocks. Every time I see one I think of Obi-wan: "An elegant weapon from a more civilised age"
Now for the bad part: I didn't really like d'Artagnan. The whole point of his character is that, from the outset, he looks young but carries himself with the courage and wisdom of a much older man. He's headstrong, yes, but not stupid; he's always a true gentleman and expert swordsman; but most of all he's witty. He just seemed like an angry teenager, although I suppose his father was just murdered. This may be a problem given he is pretty much the main character, but I'm hoping they develop him more in the coming episodes.
I thought Constance was pretty much pointless in this episode. I also thought they really jumped the gun revealing the Athos/Milady relationship this early, when it's such a great plot twist.
TLDR: All in all, I'm very happy with it and I'll definitely watch the rest of the series. They just need to give d'Artagnan some character development beyond stroppy teenager.
Post reblogged from lol my thesis with 1,165 notes
Religious Studies, University of Aberdeen

"It's just a couple of angels having a slap-fight. Perception of religious themes in Supernatural."
Video with 1 note
Tomorrow is another day
And you won't have to hide away
You'll be a man, boy
But for now it's time to run, it's time to run